Same-sex marriage is in a holding pattern in California. Proposition 8, the gay-marriage ban, got overturned in federal district court (yay), but the judgment was temporarily stayed (boo). Then the stay was lifted (yay), but the effect of that was delayed a week (boo). Then the proponents appealed to the circuit court and were granted a stay (boo), but the court expedited the case to begin this December (yay). And then there's also the mysterious cloud hanging over all of this: whether the proponents even have standing to appeal. Whew!
The entire Prop 8 trajectory has been a roller coaster of events, and August 12 was an emotional roller coaster of a day. We went to San Francisco City Hall in the morning to await word on the stay and see if we could get married. Our good friend Julie Bernstein, who had also been our wedding photographer last year, surprised us by meeting us at City Hall to offer emotional support and document what we hoped would be our legal-wedding day. To finish the job, as it were.
After waiting for a few hours in line with other gay and lesbian couples at the county clerk's office, we were overjoyed to find out the stay was lifted, but then just minutes later disappointed to hear of the delay. Same sex-marriage may be on hold for now, but given the current momentum, we are optimistic for marriage equality and know that we will get there eventually. Julie created a lovely photo essay of that day last week; please take a look: "A Second Chance for Their Wedding Day."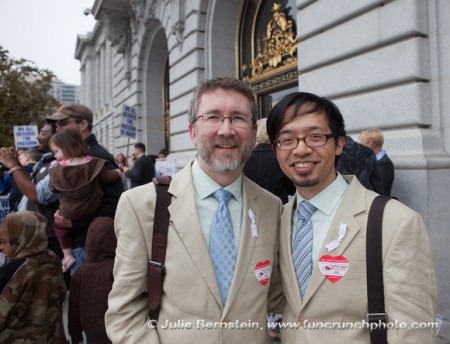 Thanks to our friends and family for their support and encouragement! And on a grander scale, thanks to the plaintiffs and their legal team for their efforts, and to Judge Vaughn Walker for his legal reasoning. The overturning of Prop 8 is a win for the Constitution and for civil rights.
» See also Thom's blog entry "'Not Getting Married Today.'"